Quality policy: safety and performance
MEDITEST, an ISO 9001 certified company accredited to ISO 17025. A pioneer in quality control in medical imaging, MEDITEST benefits from 30 years of experience in technologies dedicated to Quality Control of the technical platforms for medical imaging, nuclear medicine, radiotherapy and research. MEDITEST's work philosophy focuses on the quality and expertise of the service provided and is part of this approach: "A demanding and irreproachable quality of work to protect life".
This is all the more important for MEDITEST as its customers are subject to internal and / or external regulatory quality control obligations with imposed frequencies and procedures.
The entire MEDITEST team is at the service of the demands of its interlocutors and is involved in continuous improvement. Thanks to its experience, MEDITEST allows the safe use of ionizing radiation equipment and helps to maintain equipment settings over time thanks to two parameters:
MEDITEST provides users with several ranges of products from internationally renowned manufacturers using the most advanced techniques;
MEDITEST's involvement in public health issues is reflected in a close collaboration with CEA-LNE-LNHB experts, in order to ensure accessibility for all to an optimal security in the use of X-rays.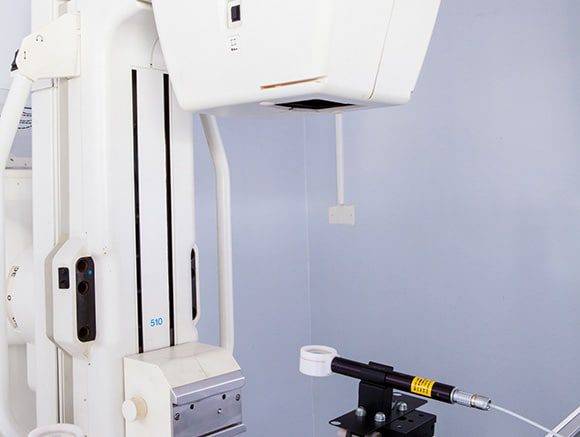 MEDIX LAB : equipment performance guarantee
In 2013, MEDITEST created MEDIX LAB, the first French secondary metrology laboratory for low-energy X-ray calibration under the aegis of CEA-LNE-LNHB, a national metrology laboratory for ionizing radiation. By performing the dosimetric calibration of all measuring instruments, MEDIX LAB enables MEDITEST to guarantee the performance of the equipment and to contribute to the reliable estimation of the doses received.
The infrastructure is built in the walls of MEDITEST to meet the technical challenges of the highest levels (Installations compliant with standard NF 61267, measuring instruments connected to the international system of units, high precision air conditioning). MEDIX LAB is the only private secondary metrology laboratory for low energy X-ray calibration on the French market. The supply of calibration certificates is perfectly in line with the regulations and under the auspices of SACLAY CEA / LNE / LNHB. The services are achievable for all brands of instruments. It also allows the removal of transport costs imposed by a return outside France and the significant reduction in the time of immobilization of the instrument. The realization of the routing of an instrument for a MEDIX LAB service must be effective in 24 hours. The total time of immobilization for a laboratory service should be 5 working days.