MEDITEST, certified and accredited
MEDITEST is ISO 9001: 2015 certified, for all its activities, including metrology; details are visible at www.tuv.com (ID 9105667133).
MEDITEST has been accredited by COFRAC since March 2014, according to the ISO 17025: 2005 standard; details are visible at www.cofrac.fr (Accredited laboratory N ° 2-5602, N ° 2-6106, N ° 2-6471 and N ° 2-6472).
MEDITEST's raison d'être is to help guarantee the diagnostic quality of medical imaging through innovation and safety requirements. For this purpose, its equipment sales activities make it possible to carry out quality control for medical imaging technology platforms.
– The laboratory's calibration activities ensure safety for the patient and health professionals, at the level of X-ray dose received during a diagnostic examination.
– Equipment sales activities have developed with internationally renowned equipment. Since 2016, MEDITEST has strengthened its position in the radiotherapy market with innovative compression devices and the creation of reference sites.
The laboratory is a pioneer in low-energy X-ray calibration as a secondary laboratory on the French market. The laboratory acquired and then expanded its savoir-faire in metrology in the fields of photometry and electrical quantities.
The strategic orientations are:
– maintain the growth of the equipment sales activity in the radiotherapy, radiodiagnostics, and nuclear medicine markets,
– anchor and deploy its historical low-energy X-ray calibration activity in the health sector, by enriching the photometry and electrical quantities services,
– continue the diversification of the metrology activities undertaken at a European level, and
– capitalize on our COFRAC-recognized savoir-faire for patient dose control in the health sector, to conquer new markets, such as industry and construction.
These orientations are guided via certain objectives and indicators as defined elsewhere, and reviewed regularly.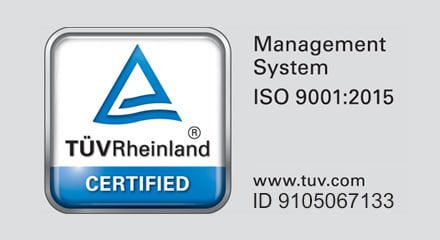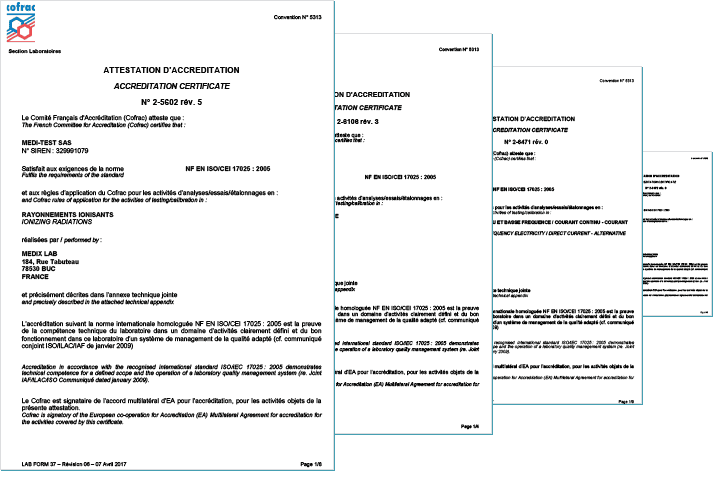 Quality Commitment
MEDIX LAB services, in their entirety, are not subject to advice and interpretation.
MEDIX LAB does not subcontract its calibration services.
Laboratory management is committed to ensuring good professional practices and the quality of its testing and calibration, at the service of its clients.
The quality system applies to all MEDITEST employees as well as general management. It is led by two major functional roles: The Quality Manager and the Laboratory Manager.
MEDITEST's level of service concerns the quality control of technical platforms for radiology, nuclear medicine, radiotherapy, and research.
Some of its operational activities are deployed through the secondary metrology laboratory for low-energy X-ray calibration, in photometry and? electrical quantities (direct current and low frequency / alternating current – direct current, and time and frequency).
MEDIX LAB measurement results are provided in the international SI unit system.
The laboratory develops additional services adapted to client needs (development of new methods and procedures).
Testing and calibration must always be done in accordance with stipulated methods and client requirements.
The purposes of the quality management system are to:
– Ensure management system development and implementation for continuously improving efficiency.
– Satisfy client requirements as well as regulatory and legal requirements.
– Ensure the quality of test and/or calibration results.
All personnel are involved in testing and calibration activities within the laboratory. As a result, they are instructed on quality documentation and apply its policies and procedures in their work.
Through this quality management system, Laboratory Management is committed to complying with the present International Standard and to continually improving management system efficiency.
Buc, February 12, 2019
_________________
Bruno Torrès
President